Radar monitoring in Greater Virunga Landscape
SarVision implements currently its SarSentry forest monitoring system in the Greaster Virunga Landscape that is situated partly in Rwanda, Uganda and Congo_DRC. The project is carried out in collaboration with Wageningen University-Department of Environmental Sciences (WU-DES), the Greater Virunga Transboundary Collaboration (GVTC), Congolese Wildlife Authority (ICCN), Rwanda Development Board (RDB) and the Uganda Wildlife Authority (UWA).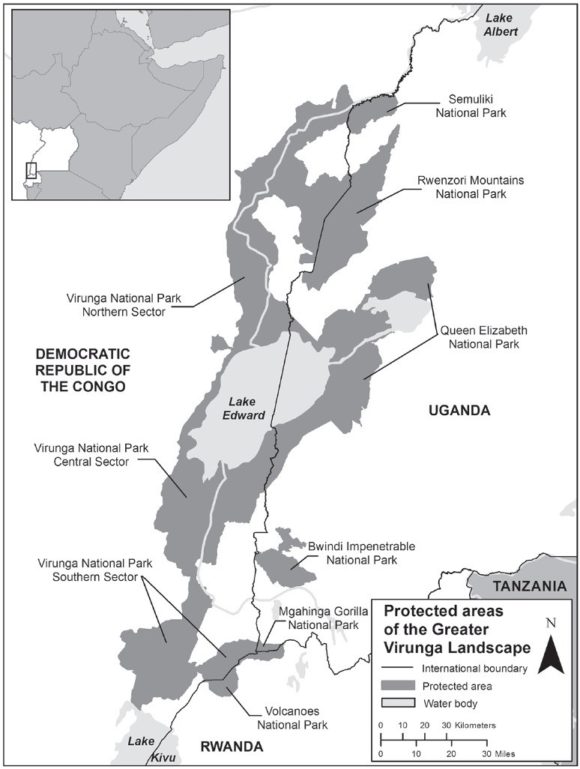 The Greater Virunga Landscape, also known as the Central Albertine Rift, is located along the borders of the DRC, Rwanda, and Uganda (see fig left).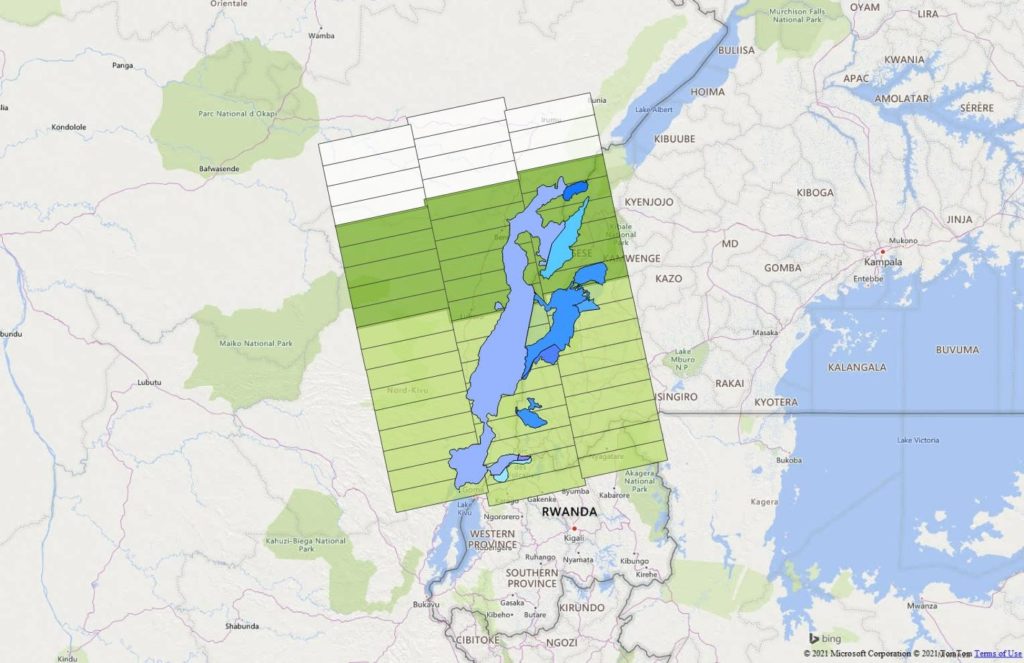 The overall objective of the project is to support the sustainable conservation of the Greater Virunga Landscape (GVL), through transboundary collaboration between the Democratic Republic of Congo, Rwanda and Uganda. The project objectives are capacity building and technology transfer for advanced, automated and accurate near real-time radar monitoring. To achieve these objectives the system is locally implementated for near real-time monitoring of forest disturbances in the GVL with regular updates in the GVL and its surroundings on forest, land use and livelihood changes, which are critical factors in climate change.
---
The Greater Virunga landscape is diverse, ranging from glaciers to alpine moorland, mountain rainforests and savannahs. It is home to species such as the chimpanzee, mountain gorilla, okapi and elephant. The region is currently under threat from widespread illegal exploitation of its natural resources. Among the factors driving this exploitation are rapid human population growth, pervasive poverty, a high degree of dependence on natural resources for livelihoods, and regional political instability. In 2004 the protected-area authorities of the DRC, Rwanda, and Uganda agreed to develop a transboundary strategic plan (TSP) to achieve collaborative management, which was signed in 2006. In 2008 funding was obtained from the Netherlands Directorate-General of International Cooperation (DGIS) to establish the Transboundary Core Secretariat and implementation of several elements of the TSP [1]. The funding was continued and is now entering its fourth period (2021-2024), with the GVTC as beneficiary.
SarVision in collaboration with Wageningen University developed automated and state-of-the-art radar monitoring systems for environmental monitoring. Radar observations can be made independent of sunlight and cloud cover, which makes it ideal for reliable monitoring. A fully automated near real-time system based on Sentinel-1 C-band radar was developed to monitor changes in forest cover. It is accurate and is even capable to detect subtle disturbances, such as selective logging, which are hard or impossible to detect on optical satellite data. The system is already used in several other countries and also seems very suitable for application in the Greater Virunga Landscape. Wageningen also developed similar systems for X-band and L-band radar, which can provide additional information, such as logging of individual trees, biomass and (sub-canopy) hydrological features. The project includes capacity building , technology transfer and maintenance to allow governmental organisations to get ownership and autonomous use of these advanced automated radar systems for environmental monitoring.
---